Uncategorized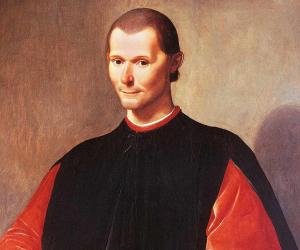 Men should be either treated generously or destroyed, because they take revenge for slight injuries – for heavy ones they cannot.
My view is that it is desirable to be both loved and feared; but it is difficult to achieve both and, if one of them has to be lacking, it is much safer to be feared than loved.
I hold strongly to this: that it is better to be impetuous than circumspect; because fortune is a woman and if she is to be submissive it is necessary to beat and coerce her.
Hence it comes that all armed prophets have been victorious, and all unarmed prophets have been destroyed.
Though fraud in all other actions be odious, yet in matters of war it is laudable and glorious, and he who overcomes his enemies by stratagem is as much to be praised as he who overcomes them by force.War
You ought never to suffer your designs to be crossed in order to avoid war, since war is not so to be avoided, but is only deferred to your disadvantage.
Therefore, it is necessary to be a fox to discover the snares and a lion to terrify the wolves
There is no avoiding war, it can only be postponed to the advantage of your enemy.
Since love and fear can hardly exist together, if we must choose between them, it is far safer to be feared than loved
He who wishes to be obeyed must know how to command
Of mankind we may say in general they are fickle, hypocritical, and greedy of gain.
The vulgar crowd always is taken by appearances, and the world consists chiefly of the vulgar.
Men in general judge more from appearances than from reality. All men have eyes, but few have the gift of penetration
There is nothing more important than appearing to be religious.
A prudent man should always follow in the path trodden by great men and imitate those who are most excellent, so that if he does not attain to their greatness, at any rate he will get some tinge of itl
The first method for estimating the intelligence of a ruler is to look at the men he has around him.
Never attempt to win by force what can be won by deception.
The promise given was a necessity of the past: the word broken is a necessity of the present.
Where the willingness is great, the difficulties cannot be great.
Wisdom consists of knowing how to distinguish the nature of trouble, and in choosing the lesser evil.
Read Full Post
|
Make a Comment
(
None so far
)
« Previous Entries